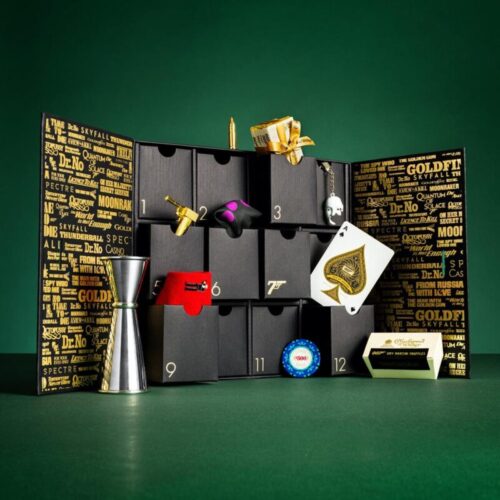 007's FIRST JAMES BOND ADVENT CALENDAR
For the first time, 007 introduces 12 Days of James Bond- the first 007 Advent Calendar. This is the ultimate gift for all Bond fans, the luxury and limited edition item has 12 drawers of Bond inspired gifts in anticipation for Christmas. 
Drawer 7 contains a money-can't-buy Casino Royale prop and the others are filled with gifts that vary from exclusives to collectibles and collaborations. All gifts take inspiration from the iconic 25 year franchise, ranging from Dr. No (1962) to No Time To Die (2021). Priced at £199, available at the 007Store.com from September 15th 2021.  
The 007 Advent Calendar
A sophisticated box with 12 drawers, sleek magnetic doors with a ribbon tie closure. The luxury design opens to doors that are lined with gold foil wallpaper of the Bond films title graphics. 
A flavour of the contents…
Casino Royale Prop Chip
An iconic piece of Bond film history. This exclusive item is a real prop cash chip from the poker table in Casino Royale (2006).The collectible also comes with a certificate of authenticity from the Bond Archive. The special item is taken from the intense games of Texas hold'em where Bond is victorious in defeating villain Le Chiffre. 
Gold Bullet Prop Replica
An exclusive key piece taken from 1974's The Man With The Golden Gun. It is a replica of the infamous bullet that initiated the search for Scaramanga after it had caught Bond's eye at MI6. It is an exact copy, plated in 24ct gold and inscribed with 007, making it a precious collectible from the Bond archives. 
Kamal Khan's Lucky Dice
Another exclusive, inspired by the famed Octopussy (1983) backgammon scene and Kamal Khan's use of trick dice in order to defeat the Major and 007 in turn. They come in a drawstring bag and are guaranteed to land on a double 6 every time they are rolled. 
Dr. No Silk Pocket Square
The exclusive 100% silk square comes in a sleek black, with hand-rolled and stitched seams. The colourful dot design, worn by Maurice Binder, is taken from the iconic opening titles from the film that began the beloved franchise- Dr. No (1962).
James Bond x Charbonnel et Walker Chocolate Bars
Exclusive. The first of its kind, the 007 Advent Calendar needed chocolate. In partnership with Royal Warrant holders Charbonnel et Walker, five stacked, ribboned chocolate bars, made of British milk chocolate were made. They are wrapped in artwork from the Bond Archive, taken from production on You Only Live Twice (1967).  
In celebration of. Inspired by. As seen is. The 007Store.com is the official online store featuring products inspired by the James Bond franchise. The store combines legacy pieces with a modern crop of designer collaborations. Highlights include collabs with Bella Freud, N.Peal, Globe-Trotter, Charbonnel et Walker, Orlebar Brown, The Royal Mint and Swatch, alongside made-to-order exclusives.